#ElectraLove: Rich the Ironman
Settle in for this #ElectraLove story because you don't want to miss it. It all started when we received an email from a woman named Kimberly. She was reaching out because her friend, Rich, was about to participate in an Ironman on an Electra. If you're familiar with an Ironman race or Electra, you're probably thinking, "hmm... that doesn't add up." You know what? You're right 99% of the time. However, in Rich's case, it was the perfect choice. Here's why...
Back in June 2019, Rich was in an accident that left him with two titanium rods and 16 screws due to a broken neck and back. Take a second to let that sink in. Doctors weren't sure Rich would ever walk again, let alone ride a bike. Against all odds, and after 14 months of grueling physical therapy, Rich was ready to get back in the saddle.
Before his accident, Rich was used to your typical road bike with clip in shoes and an aggressive riding position. The doctors were adamant that if Rich were to ride again, he'd need a bike that would minimize his risk. So, he started with a tricycle (giant granny basket included), then a 3-wheel recumbent, until finally, he discovered our step-thru Townie® Path 27D .
Right away he could feel the benefits. The Flat Foot Technology® allowed Rich to have an upright seating position with great back and neck posture as well as greater visibility for reducing risks. With the 27 gears, it as if he had no limit and the step-thru frame allowed him to easily maneuver on and off the bike. His newfound confidence was the deciding factor for entering a half Ironman. It wasn't a piece of cake to train for this event, and you can learn all about it on Experience Rich – the podcast Rich started at the beginning of his journey!
On May 1st, Rich and his Townie embarked on the epic race… which included a 3,300 feet  climb by the way. With his basket packed full of Gu, Cliff Bars, and protein drinks, he was off!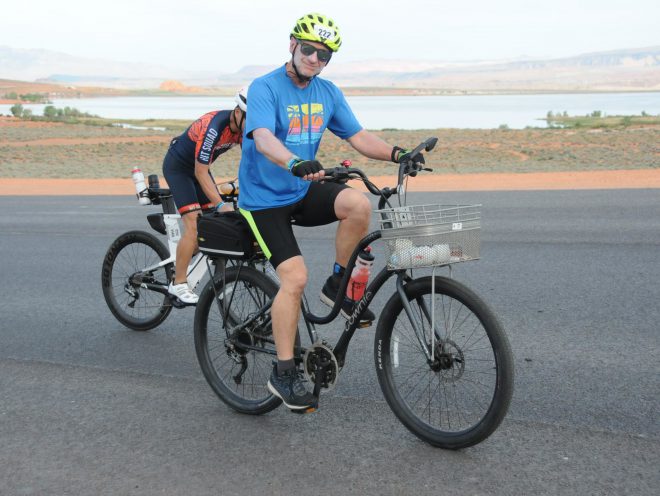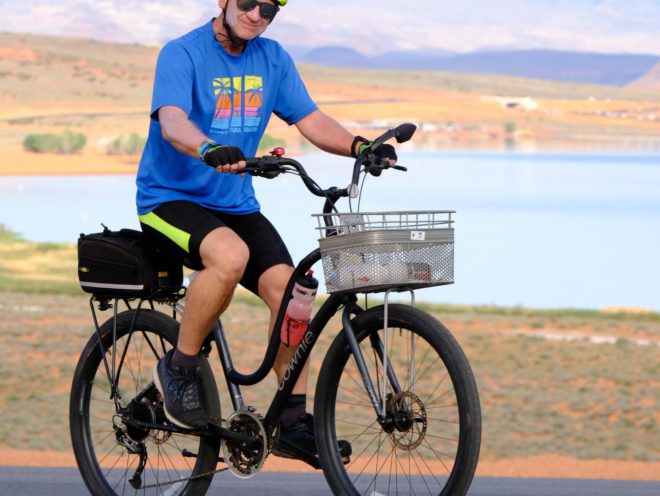 Here's a quick race recap: The swim was good, but the 56 mile bike ride was a huge challenge given the incline. Alas, he completed both! Between that and the 90 degree heat, dehydration kicked in and Rich ended up ditching the run portion. There is no doubt we all should pause and give Rich a huge round of applause.
Participating in the half Ironman was a huge accomplishment, but Rich is most happy about being back on two wheels with his friends. He's now able to see the world again and all of the greatness it has to offer thanks to his Electra Townie Path.
We hope you are feeling as inspired as we are by Rich and his journey! It's just the cherry on top that Electra was a helping hand. Thanks for sharing your story, Rich.