If you've celebrated your 30th birthday, you know it's a year of... let's call it "reflection." While some might be thinking about career choices or starting a family, we get to walk down memory lane from the past three decades. Join us as we check out 30 legends of the Electra brand.
The Townie®
Kleenex® is to tissue as Townie is to comfort bike. A household name for the past 20 years, it is undoubtedly one of our top successes. So successful, that between 2015 and 2019, the Townie was the best-selling bike in the United States. To this day, it still holds its place at the top making the namesake Townie as iconic as the entire Electra brand.
Rat Fink ®
Born of the hot rod scene, the Rat Fink Attitude Cruiser is the brainchild of Ed "Big Daddy" Roth. In 2004, we partnered with Ed to help bring the Rat Fink collection to life. This bright green, super stretched cruiser bike quickly became a cult classic, and was accompanied by the Pink Fink… you know, for the ladies.  
Hawaii Cruiser
Step-
Thru
According to urban legend, the Hawaii Cruiser Step-Thru was the first bike to showcase a floral decal. With frames in bright red and pink to green, this line of bikes was practically the genesis of our Fashion Cruiser collection. While the sun has set on the production of this legend, it can still be found on Craigslist, or in the back of sheds… if you dig deep enough.  
Straight 8 Attitude Cruiser 
When the Straight 8 arrived on the scene, it was destined for greatness. This chopper-style Attitude Cruiser featured a matte black stretch frame with an iconic 8-ball decal on the top tube. Bold accents like checkered rear wheel rim, red spokes and custom valve caps made it feel completely and totally badass.  
Tiger Shark 3i Attitude Cruiser
Inspired by WWII fighter planes, not only did this amazing Attitude Cruiser turn heads, but was also featured on Good Morning America during Shark Week years ago. Quite fitting, don't you think?  
Gypsy 3i Fashion Cruiser
The Gypsy took inspiration from bohemian style and folk art, which was expressed through the designs found on the frame and fenders. White wall tires complemented with bold, red spokes and a custom front wicker basket made this a world-renowned beauty. So much so, that the 2012 international and award-winning film, Wadjda, told a story of a Saudi Arabian teenage girl who was determined to save enough money to buy a bicycle. Her dream bike you might ask? The Gypsy, of course.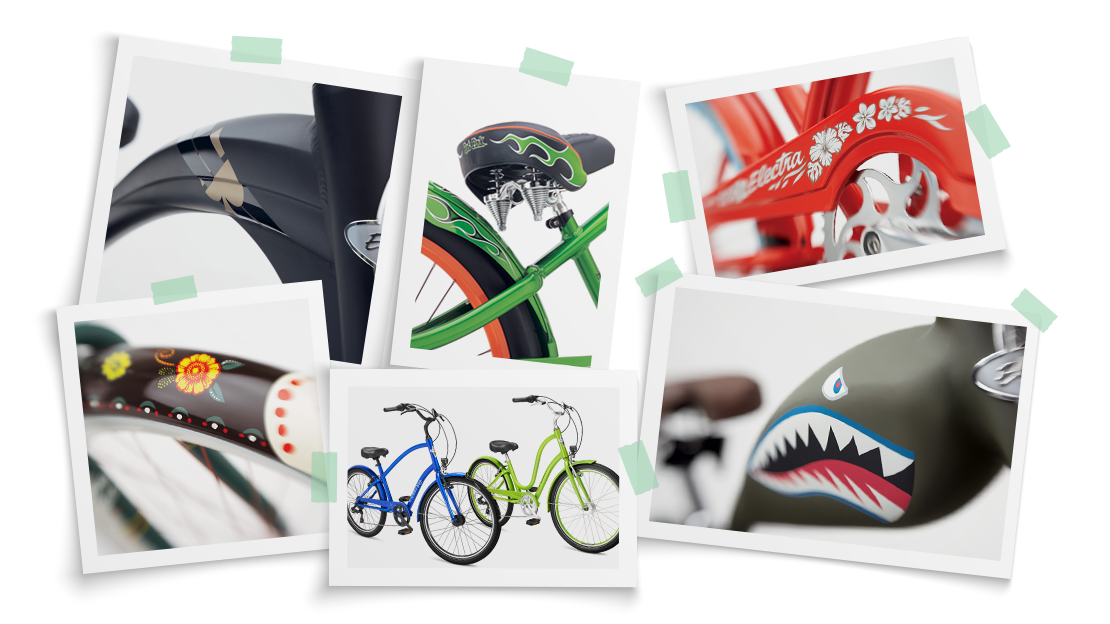 Flat Foot Technology
®
Our patented frame geometry came out at a time when comfort wasn't even a point of discussion in bike culture. This new addition to the industry was so influential that we decided to integrate elements of it into all our bikes and e-bikes, so riding was inclusive to everyone. Pair that with our signature style and you have the core identity of Electra.  
Our hometown, Encinitas
Electra was born in Leucadia, the northern neighborhood of Encinitas, California. Our headquarters are now based in the city's downtown area just 1 block from the Pacific Ocean. If you visit, you can find no shortage of great sights to see and places to visit… from the historic boat houses and school house to the La Paloma Theater, to Swamis or Moonlight beach, to at least four epic taco shops. We find it pretty cool to have our past, present and future rooted in such a unique coastal community.   
Ringer Bells
We've sold MILLIONS of Ringer Bike Bells since 2015. That is A LOT of bells. Think about it… Over a million handlebars have Electra bells on them across the globe. Fun fact: the Unicorn design is the most popular! Do you have any bell design suggestions? Shoot us a message on Instagram and let us know! 
Cool Cat
If you know the Electra Cool Cat, you know. When the creative team brought this hot pink design with a cat wearing aviator sunglasses to the table, we thought they were a little crazy. Turns out, they made a ringer bell and helmet that drove the people wild. In a good way, of course.  
The Electra Clothing Line
We're going to throw a curveball at you because Electra, in fact, started off designing soft goods. Think caddy caps, t-shirts… and the cruiser just so happened to be on display in the first storefront. The custom cruiser quickly turned out to be the best seller. The rest is history.  
Tacos, tacos, tacos!
If you read any page on our website, you will find an ode (or mention) to the taco. We've put them on socks. We put them on bells. We've put them in bags and baskets too. They're often the food of choice at company events. When you really think about it, they're simply the best.    
The Funbassadors
Fun is in the Electra DNA. That same DNA runs through the veins of our most enthusiastic, loyal and passionate fans which is why we've named them, the Funbassadors. They live, breathe and preach #ElectraLove in their day-to-day lives which gives them VIP access to the entire Electra team. We even hosted three of them at HQ last year for an exclusive visit. Want to join this crew of totally awesome people? That's totally on the table. Send an email to [email protected] and let us know what makes you a Funbassador.  
Oprah Winfrey
You read that right. Oprah Winfrey is an Electra fan. Please hold while we compose ourselves. Okay, okay, we're back. So, yeah, the Loft 7D Step-Thru earned a coveted spot on her annual list of Favorite Things in 2014, and nine years later the clout hasn't worn off.  
"People Who Love Their Electra Townies" Facebook Group
This Facebook group was created 14 years ago by die hard Electra fans. It's grown over time and become kind of like an online support group… you know, with 3,400 of your closest riding buddies across the world. Whether they need help tracking down a vintage part, want to show off their newest addition to their Electra collection, or recap their most recent taco run, this crew knows how to enjoy life on two wheels.  
Lisa Loeb
You didn't see that one coming, did you? 90's pop icon Lisa Loeb released a music video for her latest song, "Shine," in 2020, featuring her riding along the beach on her Townie. We captured highlights of her journey on our blog, which is still one of the most popular posts to date.   
Craig C. 
Craig is what we call a hidden gem. After a few e-mail exchanges, we linked up with him on Zoom and uncovered his unmatched passion. With a collection of more than 30 Electra bikes, we're continuously blown away with how much he loves the feeling you get while riding one. And although he lives 6,000 miles away in the land down under, we're lucky to have him as a part of our family.   
Simon the Schnauzer
It feels extra special to have four-legged fans. Let's say we were to hire a spokes-dog. There's one in particular that automatically comes to mind. Meet Simon the Schnauzer (@simonsaysschnauzer). He lives in LA and can be spotted around town in his pet carrier nestled perfectly on a Townie Go! He's got killer style and the doggles to prove it.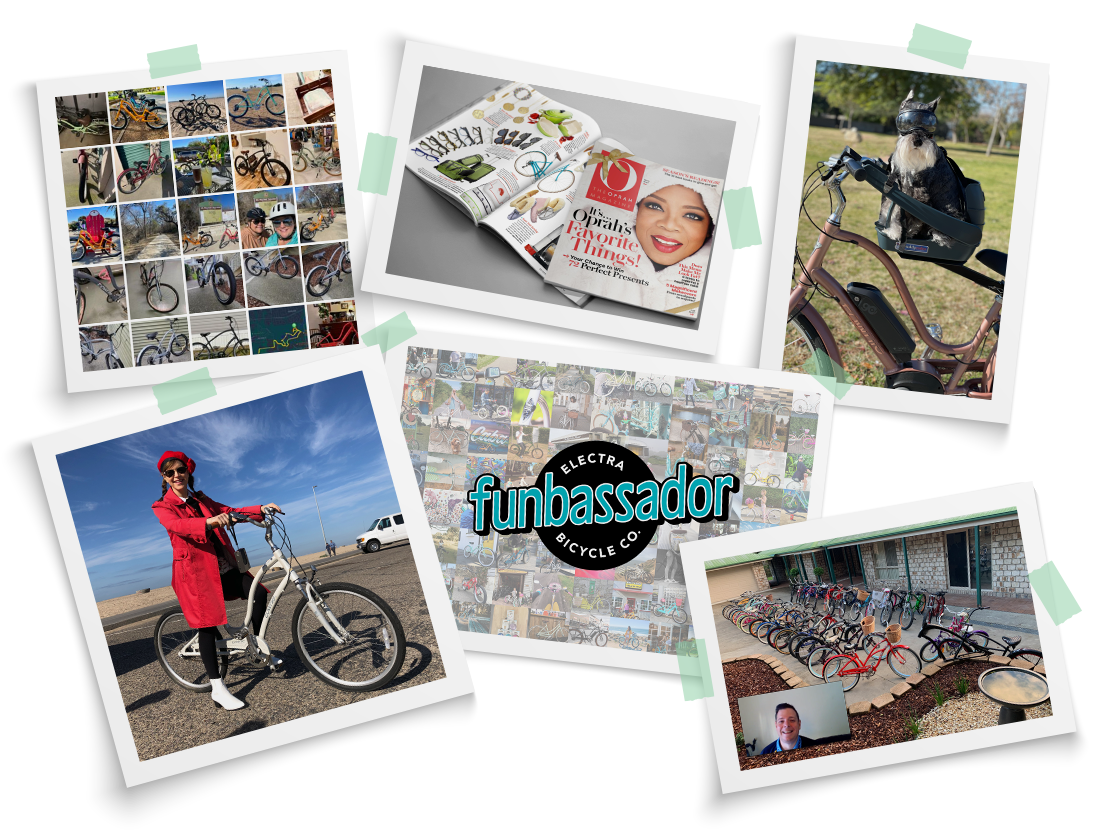 Kevin R.
If you know Electra, you probably know Kevin. He was the very first retailer to buy and sell Electra bikes here in SoCal. Eventually, his love for the product and brand led him to sell his business and join the Electra team. For 19 years, he shared his passion with retailers and consumers nationwide. Even after his retirement at the start of 2023, you can still catch him spreading the #ElectraLove. 
Wolfgang F.
Trying to rival Kevin's Electra passion is another tenured employee, our very own Art Director, Wolfgang. No bike hits the streets without his stamp of approval. That's because he's built a reputation for setting the highest standard when it comes to product quality and design.  
Robin V.
Commonly referred to as "RV" around the HQ, Robin was selected 13 years ago by our founders, Jeano and Benno, to take over as Creative Director. Her team takes a deep dive into the weird and wild side of Electra. Getting inspiration from garden gnomes and the anatomy of chickens only scratches the surface of their Google history. 
Stevie R.
Stevie is our Industrial Designer that brings a fresh perspective to our Product team and classic bike frames. Her love for transportation design and experience with cars, UTVs and more has helped lead the way in developing inventive improvements to our fun, timeless bikes.  
Amber G. 
Amber is the Retail Marketing Specialist for Trek Australia (Reminder! Trek is our parent company) and has a passion for riding her Electra Loft. Well, she loves anything Electra. Tag along with her two wheeled adventures on her Instagram Instagram account.   
The Dogs of Electra
Whether people admit it or not, everyone knows offices are better when people bring their dogs around. The dogs of Electra set a high standard. They're our emotional support animals. Miller, Charlotte, and Mila are our resident furry friends, always zooming around and trying to help us with our work.   
Before we jump into this one, let's be clear. We have a TON of legendary retailers. These are just a few and you'll probably see and hear more about more legendary partners over the coming months. 
Quality Bike Shop – Georgia, USA
This awesome bike shop has been a standout Electra retailer for over 20 years. They set a high bar with one of the largest selections of our bikes and accessories in the state of Georgia. Thanks, Wayne and team, for loving Electra – we love you back!  
Sykkelpikene – Norway
Norwegian for "bike girls," Sykkelpikene has been a great Electra partner for the last decade, sharing our vision to make bike riding fun and stylish. One of Electra's European pioneers, they have been creating an ever-growing community of thousands of Townie Go! enthusiasts.   
Richwagen's Bike & Sport – Florida, USA
This top-tier retailer has amassed one of the finest Electra collections by having an eye for some of the most special bikes over the last 20 years. At one point, they even had a warehouse full of our coolest classic models.  
Halifax Cycles – Halifax, Canada
Selling our products for more than 10 years, this shop has been a committed partner all along. The owner, Jenna, is an Electra champion who understands the casual-riding customer and always gives us awesome feedback from the front lines.  
Electra Store – Hamburg, Germany
Our first and only Brand Store in Europe opened in 2016 in Hamburg. Their post-COVID Beer, Bikes, and Beats events are well-known and loved by Electra fans in the area.  
Mike's Bikes – South Carolina, USA
One of the first Electra retailers on the South Carolina coastline, Mike's Bikes has been selling our bikes for over 20 years. Mike and his staff love the brand, and all have an Electra in their garage.