There's New Kids (Bikes) in Town
We don't hold back when it comes to bold colors and intricate designs on our bikes, especially when they're for little riders. Their wild, flourishing imaginations drive our inspiration, and the four new additions are no exception. Every detail from the frame, fenders, grips, rims and valve caps are thoughtfully designed to take your kid on a ride (more like a million rides) of a lifetime.
The designs aren't the only thing that will keep your kid riding all day. Our patented Flat Foot Technology® provides ultimate comfort and control on two or four wheels, and these single-speed rides are available in two mini sizes. The 16" bikes, for our littlest riders, come with training wheels attached while the 20" bikes are equipped with a kickstand.
Sit back, relax and get ready to dive into a daydream as we look at the stories behind these adorable and fun kids' bikes.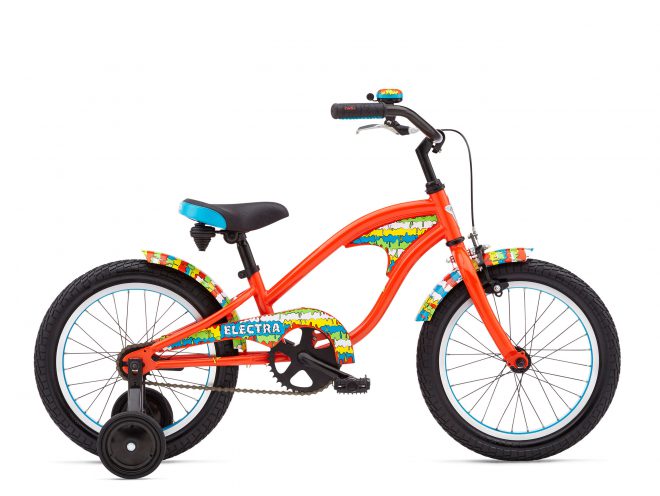 Graffiti Drip 1 16in Boys
Graffiti Drip 
There's no doubt that the Graffiti Drip 1 16" will give your kid instant bike rack cred. With a radioactive red frame and custom design of paint dripping throughout the bike, it's full of energy – just like your little one. With a custom saddle, grips and bell, no detail is spared giving a whole new meaning to street art.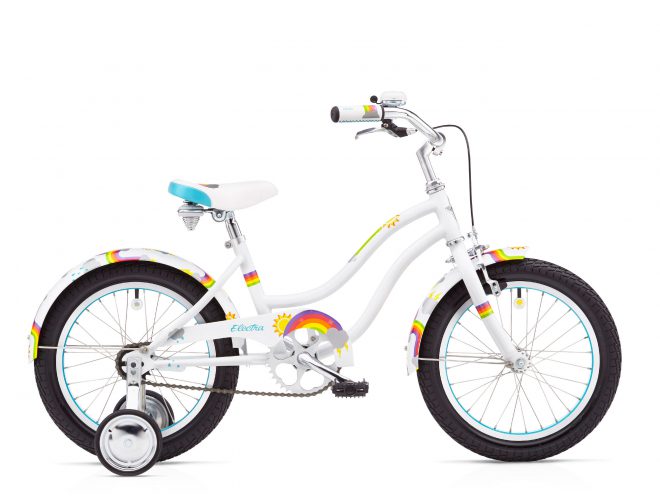 Sun Shimmer 1 16in Girls'
Sun Shimmer 
We finally found out what's at the end of a rainbow… Sun Shimmer 1 16"! It features a crisp white frame showered with shimmering rainbows and suns while metallic clouds and raindrops pop out. Electra style is shrunk to perfection with a custom saddle, grips and valve caps. Bottom line, this bike captures the fun of playing outside regardless of the weather.
Firetail 20in Boys'
Firetail
Inspired by Chinese mythology, the Firetail 1 20" features dragons flying amongst the clouds intertwined around a deep metallic red frame. A unique saddle and grips are debossed with dragon tail scales with a bold ringer bell completing the look for a truly custom bike. It has the comfort and control needed to get out and slay dragons all day.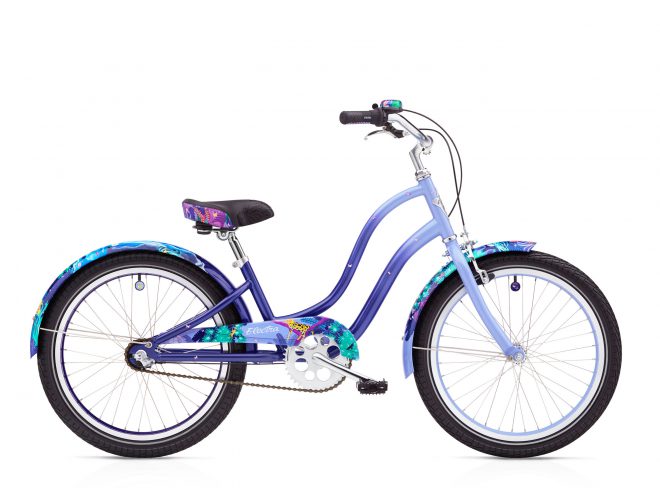 Enchanted Jungle 3i 20in Girls'
Enchanted Jungle 
The Enchanted Jungle 1 20" will let your little rider's imagination run wild. Set deep in the heart of a mystical jungle, you'll find tropical foliage, waterfalls and exotic animals frolicking throughout. Hippos and flamingos meander through riverbeds while birds fly above the dense trees and rushing waterfalls. Experience dawn to dusk throughout the frame and admire custom-designed saddle, grips, valve caps and bell as finishing touches.
As we like to say, it's never too soon to become an Electra fan. So, load the family in the minivan and check out the new kids' bikes at your local Electra dealer.