Which E-Bike Will You Take Home? Eeny, Meeny, Miny, Go!
Which E-Bike Will You Take Home? Eeny, Meeny, Miny, Go!
2022 is kicking into high gear, spring is just around the corner, and you're itching for those warmer months of the year. For many, your trusty bike will need a slight tune up before it's ready to hit the streets again. For others, it may be time to upgrade to fresh ride, or even buy your very first bike. If you identify with the latter crew, it's your lucky day because Electra has two new additions to our Go! e-bike collection - the Cruiser Go! and Townie Go! 7D.
Electra has come to mean a lot of things to our riders. Fun, freedom, style, nostalgia – to name a few – and the Cruiser Go! and Townie Go! 7D don't fall short. It's all a matter of finding which one is right for you and we're here to help!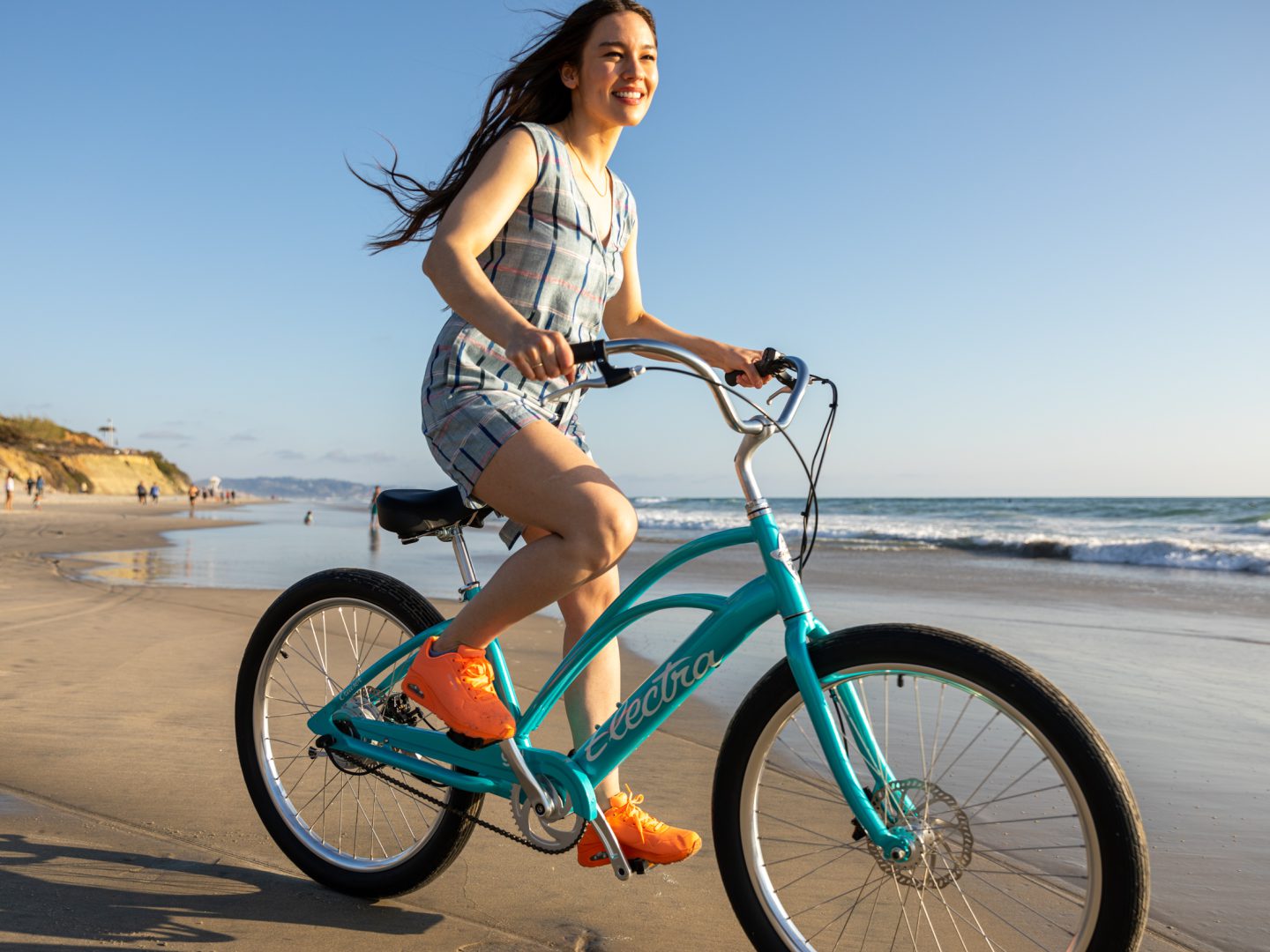 Cruiser Go!
Since Electra was founded in 1993, our brand has been practically synonymous with the word "Cruiser." We've designed countless stunning, stylish cruisers that have been ridden around the world because their comfort and looks exude classic, California beach culture. Now, almost 30 years later, we've introduced one of the biggest upgrades we've ever made to our Cruiser line with the Cruiser Go!
The Cruiser Go! is the kind of bike you'll see out pedaling along on a boardwalk or a casual city path. The curved handlebars and comfortable step-thru and step-over frames featuring Flat Foot TechnologyÒ make it perfect for a smooth, slow ride. What the single-speed Cruiser Go! also offers is the chance to pump up the energy with the Electra E-bike System. It has pedal-assist power across three levels of support so you can take on more. Want a little extra speed to feel the wind in your hair? Activate support level one. Want to tackle that hill you would ordinarily avoid? Pump it all the way up to level three and feel that sweet, sweet relief. Now this is cruising!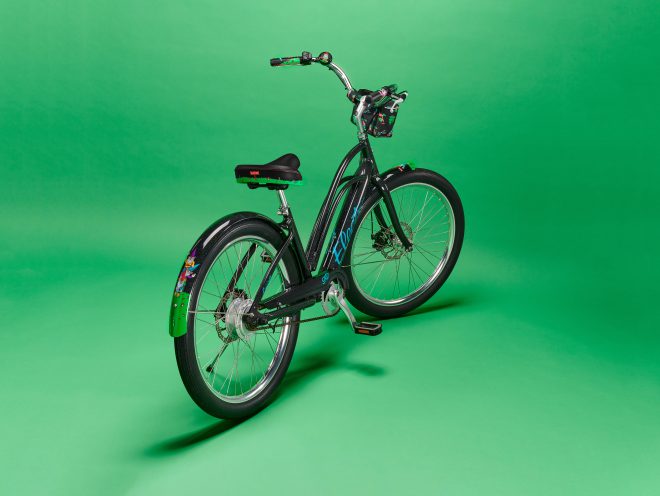 If looking good on a casual ride sounds like your kind of jam, the Cruiser Go! may quite literally be perfect for you. You'll want to trick out your Cruiser Go! in the coolest accessories you can find before hitting the boardwalk with your boombox and flip flops. With our many accessory options, like graphic collections that have been designed to match, you'll be able to turn your Cruiser Go! into a lean, mean, cruising machine. For some inspiration, just check out this Cruiser Go! Step-Thru in Galactic Black adorned with items from our Gnome Graphic Collection. It's a sweet ride, we know. Now before we get too carried away, what about that other bike?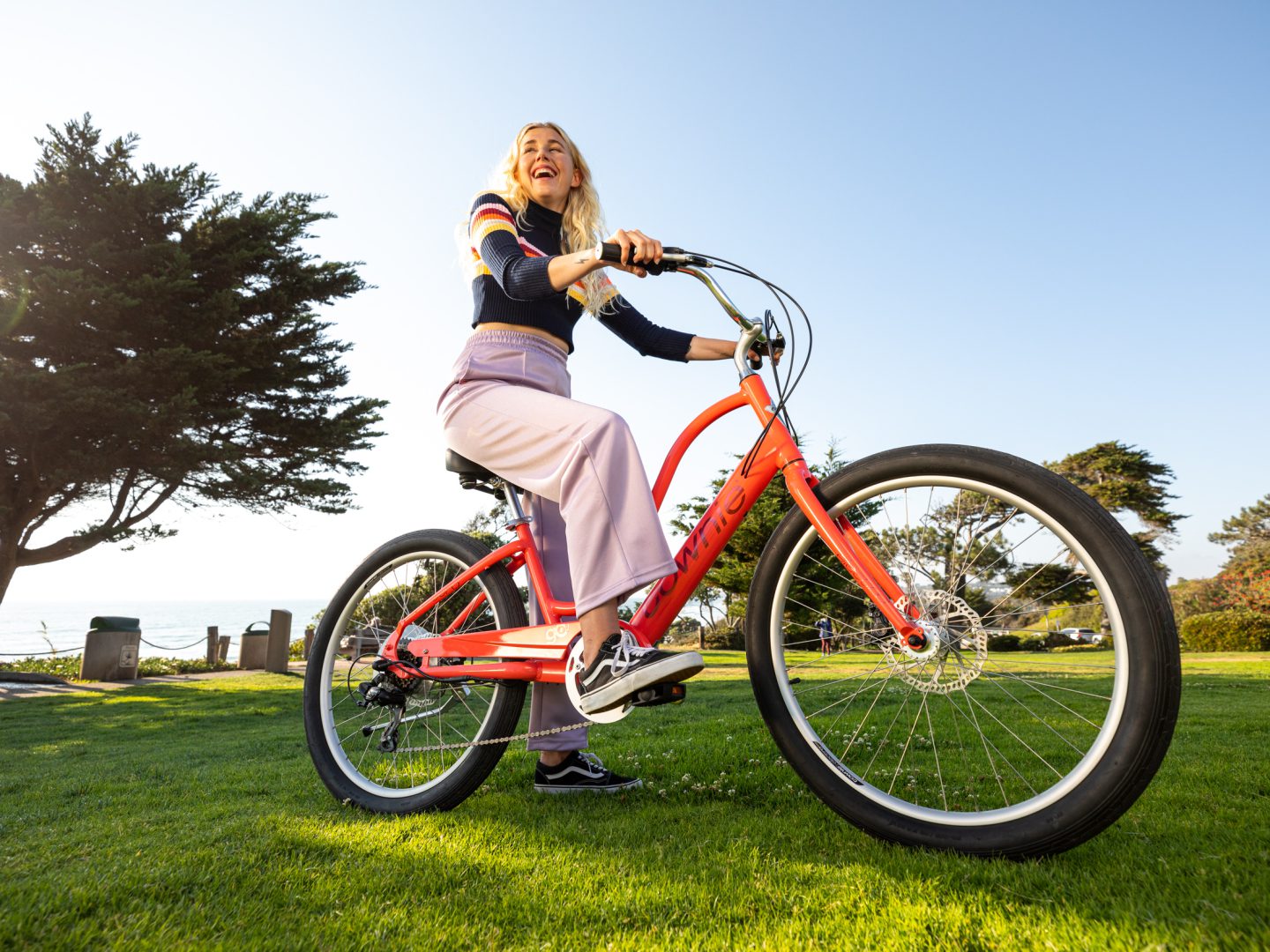 Townie Go! 7D
If the Cruiser represents the classic Electra, then the Townie is our modern staple. First released in 2003, the Townie redefined the comfort category for bikes and has become as recognizable as the Electra name itself. Fast forward ten years, and in 2013, we released the first Townie Go!, an electric take on the bike that has evolved over the years to fit different riders across the globe. However, we're here today thanks to the Townie Go! 7D.
In some ways, the Townie Go! 7D is like the Cruiser Go! with its integrated frame, Step-Thru and Step-Over options, Electra E-bike System, Flat Foot TechnologyÒ (first featured on the original Townie), and, of course, bright, eccentric colors to choose from. What makes the Townie Go! 7D different is the range you get from its seven-speeds. With the easy adjustment of the shifter, you can easily conquer the toughest parts of your ride. Long, steep hills are much easier when you can shift into first gear, and they become a piece of cake when you use any of the three levels of support from the pedal-assist system.
So, you might be asking yourself, "how will this bike fit into my lifestyle?" The answer: the possibilities are endless!. It's easy to pair up with an MIK rack and basket to take to the grocery store. Maybe you'll want to load up with a trunk bag to carry your lunch on your commute to work. You might want to take it out for a few laps around the lake to push yourself and get some exercise in. It'll even be perfect to take down to the beach and ride alongside your friend on their Cruiser Go! The bottom line is that the Townie Go! 7D has many uses from casual riding and beyond to fit your lifestyle.
The E-Bike for You?
So there you have it! The Cruiser Go! and Townie Go! 7D are two phenomenal e-bike options that could suit many of your needs as a rider. If you're struggling to decide which one is right for you, take some time to think through all the ways you plan on using your e-bike. Using the information above, you should be able to find a good place to start. If you think either of these e-bikes might be right for you, be sure to head down to your local Electra dealer to take one or both for a test ride.